BPIS BPISS Ch.Turbar's Spinal Tap HIC
Blue merle w/copper & white
D.O.B: August 3rd 2020
Breeder(s): Richelle Nelson
Hips: Too Young
Elbows: Too Young
Eyes: Clear @ 9 weeks
MDR1: m/n
HSF4: n/n
CEA: n/n
DM: n/n
PRA: n/n
Height: Still growing
Weight: Still growing
Teeth: Full dentition
Tail: NBT
Registrations: CKC AKC & ASCA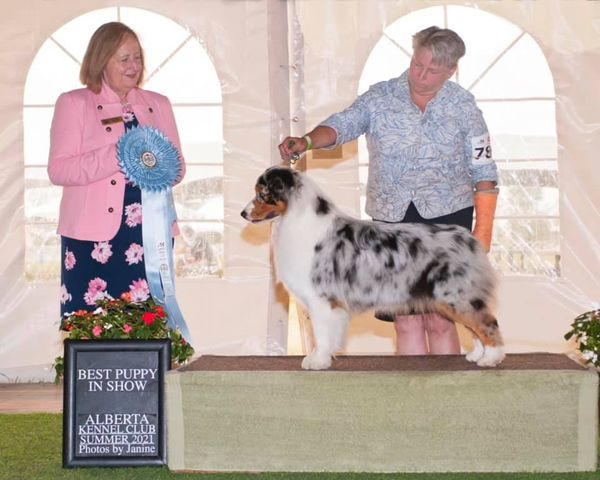 Eleven went to his very first dog show with his favorite aunty Tammy. They attended the Saskatoon working herding specialty and at just 9 months old Eleven went WD BOW BOBP AND BOB over 5 very nice specials!! in just 2 days of showing Eleven is half way to his Championship!!
Next Eleven we to the Rocky Mountain working herding specialty where he followed in his grandpa George's footsteps not only going BOB over a very well known BISS winner, but onto BPIG, Group 2 and finished with BPISS!! What a fantastic way to finish his championship!! 
Last show was the Alberta Kennel Club show, This puppy has surpassed all expectations!! BOB multiple times 4 out of 5 BPIG, a HUGE group 4 and finished off with a BEST PUPPY IN SHOW!!!!
Eleven is now home enjoying the farm life while he matures! Everyone who meets him falls completely head over heels for him.