Red merle w/copper & white
D.O.B: February 12th 2022
Hips: Too Young
Elbows: Too Young
Eyes: Clear @ 9 weeks
MDR1: 
HSF4: 
CEA: 
DM: 
PRA: 
Height: Still Growing
Weight: Still Growing
Teeth: Full dentition
Tail: Docked
Registrations: CKC AKC & ASCA
Zing is Veto's sister, a George Toast baby! Zing is loved and trained by Melanie Walker. Zing will be hitting a show ring soon.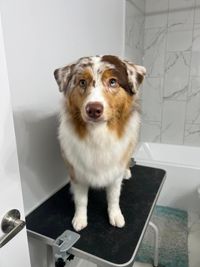 AKC Ch. Sunnyrain Incognito

AKC/ASCA Ch. Hearthside Say Goodnite Gracie NA

AKC Ch. Mill Creek's Stonemeadowscotsman

Hearthside Made Ya Giggle CD RE