GrCh.WyndStar Savor the Flavr @ ManeStreet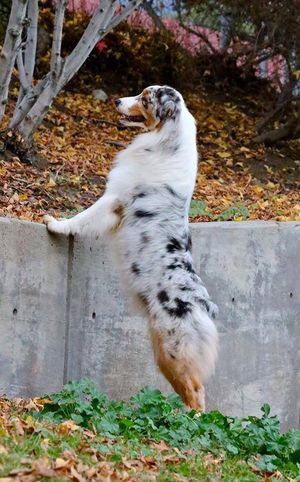 Blue Merle w/ copper & white (Red Factored)
Breeder(s): Kerry Kirtley & Cheryl Nakakura
Owner(s): Richelle Nelson
D.O.B January 23 2014
Hips: Good
Elbows: Normal
Eyes: Normal-Normal
MDR1: m/n
HSF4: n/n
CEA: n/n 
Height: 19"
Weight: 42 lbs
Teeth: Scissor Bite/ Full Dentition
Tail: Docked
Registrations: AKC, CKC, ASCA 


Savor finished her championship with ease in 3 weekends going BOB over the specials also winning best of opposite sex over specials from the classes her very first time out!!! A HUGE thank you to Kerry for entrusting Savor to us!!
Savor obtained her Grand championship with multiple group placements including a group 2 just 3 months after her first litter of puppies!!
Savor is ASCA MJ pointed, Thank you again Tonia (Oenomel Aussies) for showing savor to a HUGE 4 point BOB Major!!
Savor is now retired and enjoying life on the couch with the kids <3 
AUST Ch. Propwash Proof Positive

Propwash Crofton on a lark

Ch. Agua Dulce With A Twist NA, NAJ

Ch. Agua Dulce One Hot Tomale

Ch. Kaleidoscopes Spice Girl